ZO® provides a comprehensive approach to creating and maintaining healthy skin for anyone, regardless of age, ethnicity, unique skin condition or skin type. From correcting sun damage + pigmentation to preventing new damage + protecting against future damage, ZO® has your skin health covered.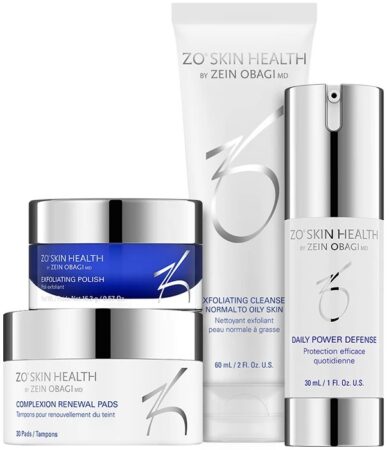 ZO Complexion Renewal Pads
Moistened pads help minimize surface oil and exfoliate pore-clogging dead skin cells and dirt.
Benefits
Dual action exfoliation removes dead skin cells to prevent clogged pores
Reduces oiliness and minimizes surface oil
Calms and soothes irritated skin
Key Ingredients
Glycolic acid: Proven epidermal exfoliant
Botanical extract blend: Properties to soothe skin and reduce redness; also provides antioxidant benefits
Texture of pads: Specifically designed to help promote exfoliation
Directions For Use
Gently wipe over face.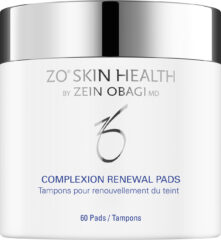 ZO Exfoliating Cleanser
Gentle exfoliating cleanser for normal to oily skin that targets surface oil leaving the skin feeling clean, but not stripped and dry.
Benefits
Rids the skin of dirt and surface oil
Unclogs pores with exfoliation
Calms and soothes irritated skin
Key Ingredients
Jojoba Esters: Exfoliates dead skin cells
Encapsulated vitamin E: Antioxidant
Directions For Use
Massage a small amount on damp face and neck. Rinse thoroughly.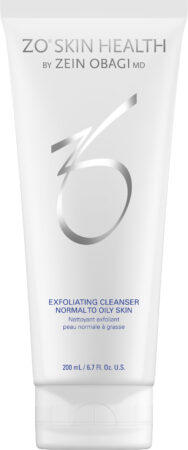 ZO Pigment Control Creme
This crème contains 2% hydroquinone and glycolic acid to correct pigmentation disorders, promote even skin tones and mitigate pigment-forming irritations.
Benefits
Gradual skin bleaching of hyperpigmented skin conditions – chloasma, melasma, freckles and other unwanted hyperpigmentation
Helps reduce irritation associated with hydroquinone
Hydrates newly exposed skin
Key Ingredients
2% hydroquinone: Suppresses pigment production
Glycolic acid and ascorbic acid: Purges appearance of surface pigmentation
Glycerin: Hydrates newly exposed skin
Saponins: Modulates the unwanted appearances from inflammatory response
Vitamin E and butylated hydroxytoluene: Provides antioxidant properties
Directions For Use
Apply 2 pumps to affected areas twice a day or as directed by a physician. Always follow with sunscreen protection. See enclosed package insert for full prescribing information.

ZO Wrinkle and Texture Repair
Featuring a microemulsion delivery system, Wrinkle + Texture Repair is a high-potency retinol that reactivates the process of skin renewal to restore natural hydration, visibly improving the appearance of wrinkles and refining skin texture.
Benefits
Helps reduce the appearance of lines + wrinkles
Supports the appearance of smooth skin texture
Improves skin function and the skin's ability to retain hydration
Key Ingredients
0.5% Retinol: Supports collagen-1 and promotes cellular turnover
ZCORE™ complex: Consists of a biomimetic tetrapeptide and sweet yellow clover, and supports the anchoring fibrils for dermal-epidermal junction integrity
ZPRO®: Supports skin's natural replenishment of hyaluronic acid
Brassica oleracea italica (broccoli) extract and helianthus annuus (sunflower) seed oil: Provides anti-irritant properties
Directions For Use
Apply to clean, dry skin.
The potency of Wrinkle + Texture Repair can cause redness, dryness and peeling for the first few weeks. These anticipated reactions are a sign of effective stimulation of the skin and will subside with consistent use.

ZO Retinol 0.25% Skin Brightener
0.25% retinol brightens and evens skin tone.
Benefits
Brightens + evens skin tone
Antioxidants help protect and defend the skin against environmental stressors
Key Ingredients
Retinol and ascorbic acid: Helps even skin tone
Glutathione, soy isoflavones and N-acetyl glucosamine: Reduces the appearance of uneven skin tone and age spots.
Vitamins C and E: Provides antioxidant properties
Directions For Use
Apply to clean, dry skin.

ZO Dual Action Scrub
Dual action exfoliation helps remove dead skin cells and excess surface oils that can lead to clogged pores.
Benefits
Dual action exfoliation
Targets surface oil and bacteria
Calms and soothes the skin
Key Ingredients
Lactic and salicylic acid: Chemically exfoliate dead skin cells
Melaleuca alternifolia (tea tree) leaf oil: Dissolves and removes excess oils on skin while destroying bacteria that can lead to acne
ZOX12®: Exclusive 12-hour time release antioxidant complex (encapsulated vitamins A, C and E) helps protect the skin from free radical damage and prevents future signs of premature aging
Directions For Use
Gently massage a small amount on damp face and neck. Rinse thoroughly.

ZO Exfoliation Accelerator
Glycolic and lactic acid complex that aids in the removal of dead skin cells while providing calming and soothing benefits with an aloe, green tea and chamomile blend.
Benefits
Provides gentle, yet effective exfoliation of dead skin cells helping to increase cell regeneration
Helps soothe and support skin
Antioxidants help prevent future damage
Key Ingredients
10% glycolic and lactic acid complex: Provides gentle exfoliation of dead skin cells and stimulates epidermal renewal
Vitamins A and E: Proven antioxidants added to help prevent future damage
Advanced anti-irritant and moisturizing properties: Helps soothe and heal damaged skin
Directions For Use
Apply to clean, dry skin.