Skin nourishing technology, clinically demonstrated to help diminish the appearance of skin aging!
Discovered through years of research in wound healing, PSP®, which stands for 'Processed Skin Cell Proteins', is a patented cosmetic ingredient developed by leading Swiss scientists and available exclusively in NEOCUTIS skincare products.
PSP®, referred to as the "CADILLAC" of peptides, is an optimal blend of nourishing proteins and polypeptides. PSP® harnesses the power of Human Growth Factors, Interleukins and other Cytokines, to help deliver state-of-the-art skin revitalization.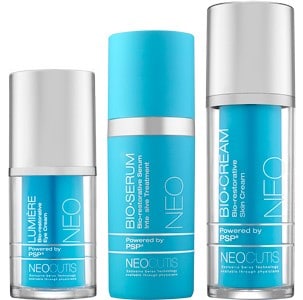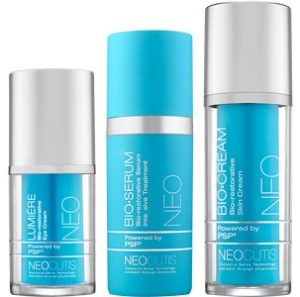 Comprised of a patented formula called PSP®, BIO • CREAM delivers an innovative peptide blend of human growth factors, cytokines, and interleukins to refresh and restore the skin overnight. BIO • CREAM was designed for all skin tones and types.
Benefits of NEOCUTIS BIO • CREAM:
Reduces the appearance of fine lines and wrinkles
Enhances skin tone and texture
Visibly firms the skin
Replenishes moisture
Restores skin quality after cosmetic and medical procedures
Want hydrated, glowing, and bouncy skin that looks and feels young and beautiful? Apply NEOCUTIS BIO • GEL every day to address common signs of aging and plump the skin with moisture-inducing PSP® peptides. This formula is best suited for patients with oil-prone skin.
Benefits of NEOCUTIS BIO • GEL:
Noticeably reduced appearance of fine lines and wrinkles
Skin-plumping hydration
More nourished and less stressed skin
Increased elasticity
Improved radiance
Correction of dry skin caused by acne treatments
NEOCUTIS LUMIÈRE Eye Cream
The soft, delicate skin of the eye area is prone to developing fine lines, wrinkles and other signs of fatigue and ageing. NEOCUTIS LUMIÈRE Eye Cream powered by 30% more1 PSP® to help reduce under eye puffiness, dark circles, and creases! Using its hydrating PSP peptide formula as well as caffeine, hyaluronic acid, and bisabolol (a type of essential oil) it provides a powerful blend of energizing, moisturizing and nourishing ingredients helps provide your eyes with a younger, more refreshed look. NEOCUTIS LUMIÈRE Eye Cream is great for all skin types, ophthalmologist and dermatologist tested, free of colour additives and fragrances and not tested on animals.
Benefits of NEOCUTIS LUMIÈRE Eye Cream:
Helps alleviate skin puffiness with Caffeine
Plumps up the appearance of skin with the hydrating power of Hyaluronic Acid
Visibly diminishes the appearance of under eye darkness
Soothes and refreshes the delicate eye area to help improve the signs of fatigue
If you would like to learn more about NEOCUTIS and the products we offer at Healthy Skin Centre, call us at 604.553.7546 to schedule a consultation with one our skin care advisors.